The Port – CrossFit
Warm-up
Warm-up (No Measure)
2:00 on any machine
+ 3 Rounds:

10 Sit-Ups

10 Wall-Balls

10 Push-Ups
+ Full Body Joint Mobility
WOD
Metcon (6 Rounds for reps)
2 Round "Cardio Party" in Teams of 3
A. AMRAP 5:

12/10 Calorie Row

20 Wall Balls
Rest 2:00
B. AMRAP 5:

12/10 Calorie Ski or 75 Double Unders

10 Push-Ups
Rest 2:00
C. AMRAP 5:

10/8 Cal Bike

10 Toes-to-Bar or 10 Sit-Ups
Rest 2:00
During each rest period, you will wipe down your machine, and rotate with someone in your group.
Post-Workout Strength
A1. : Banded ab pull downs (3 X 15 )
A2. : Chin-Up Grip Hang (3 X :30 )
Banded alphabets (1 Set Each Side )
Band at shoulder height, standing to the side, hold the band with both hands and trace each letter of the alphabet in small deliberate movements.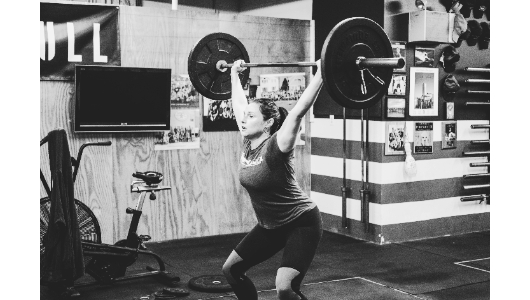 Ashley T.