Announcements
New Year Schedule
Friday 12/31 – New Years Eve – 7, 8, 9, 10am Open Gym, Noon
Saturday 1/1 – New Years Day – Normal Schedule
The Port – CrossFit
Warm-up
Warm-up (No Measure)
3 Rounds:

5e Plate Halos

:20 Plate OH Hold – :20 Plank w/ Scap Push-Ups – :20 Down Dog

with Toe-Touches.

1:00 Row
+ Extended Warm-Up

3 Reps for Proper Form:

1 Wall-Walk with :10 Nose and Toes Hold + Walk Back Down.
*Can add 4e Shoulder Taps in the HS Hold for those who are ready.
Workout
Metcon (AMRAP – Reps)
With a Partner For Quality:
6 Sets Each: 500m Row
*While 1 Partner works, the other Partner works on HS Holds and HS Walking.
Similar to the other week's bike session, your score today

depends on your consistency. Round 1 sets the tone. Rounds 2-6 the goal is to match your pace and time. For each second you are off from Round 1, you get 1 point. So, that makes a 0 a perfect score for today's rowing session.
For those looking for something else other than HS Holds and HS Walk practice, a 1:00 Plank, while their Partner is Rowing, would be another great option.
Post-Workout Strength
Metcon (No Measure)
3 Sets:

:30 Hollow Hold

20t Russian Twists*

10 V-Ups
Rest 1:00 Between Sets
*Add weight if you'd like. These should be done with heels on the ground to balance, and done slow and controlled.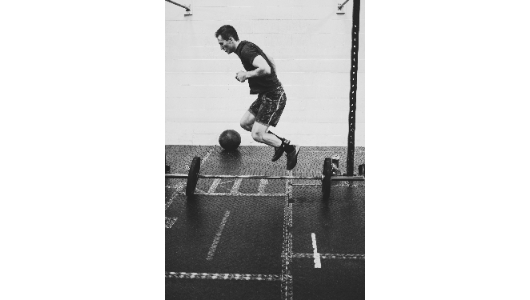 Owen