The Port
Warm-up
2 Rounds:
10 Cossack Squats
10 "Swimmers"
10 Scap Pull-Ups
+ AMRAP 6:
8/6 Cal Bike
5 Jumping Pull-Ups*
10 Goblet Squats
*Focusing on pulling the chin over or chest to the bar and then pushing away.
Strength
Chin-Ups (6×3)
– Those who can add weight today should build.
– Those who could be successful with 1-2 at bodyweight should stay right there.
– 6 X 2 negatives is also an option.
Burn Strength
EMOM X 12
Evens: 10 Hollow Hold Banded Pull-Downs
Odds: 10 Dual DB Curl to Press
Workout
10-15-20-15-10
Chest-to-Bar Pull-Ups
Goblet Squats (70/53)(53/35)
Burn WOD
AMRAP 12
10 Ring Rows
10 Goblet Squats
10/8 Cal Bike
Finisher
3 Sets for Quality:
8e Plate Halos
10 Superman Lifts or GHD Back Extensions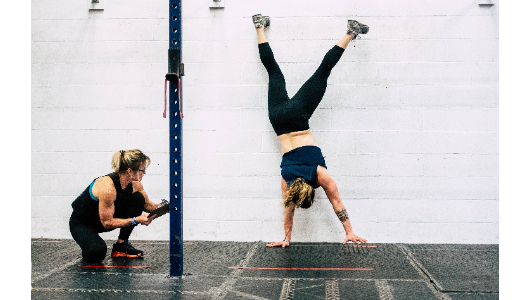 Coach Kristi and Coach Ashley