Announcements
VOTE for The Port Best Fitness Center on the Seacoast!
You can vote every day!
The Port
Warm-up
2:00 in Z1
+ 2 Rounds:
10 KB DL
10 KBS
10 KB Squats
5e KB Strict Press
5e Unweighted Windmills
+ PVC Snatch and Thoracic Mobility
+ PVC Snatch Warm-Up
Strength
Hang Snatch (5 X 3; Building)
Hang Squat Snatch, building to something Moderate-Heavy for 3 Reps.
Burn Strength
Every 2:30 X 5 Rounds:
12 Plate Ground to OH
12t OH Lunges*
10e Slow and Controlled Russian Twists
*Focus here on a strong, locked-out, overhead position.
This is not for time. Think about your movement, and feel free to go a little heavier than you normally do.
Workout
AMRAP 10:
7 Hang Squat Snatch (95/65)(65/45)
14 Lateral Burpees Over the Bar
Burn WOD
AMRAP 10:
14t DB Hang Snatches (alt. if you can)
10 DB Goblet Squats
10 Burpees Over the DB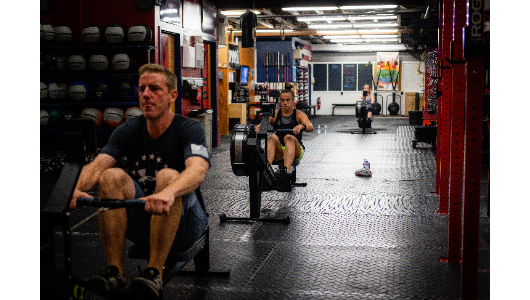 Tim and Kim