Announcements
Looking for a new Wodify picture?
Check out our new shared photo drive!
https://drive.google.com/drive/folders/1uXB3QG85jCF5cLyr9evJ-aJXHKBg1AW8?usp=sharing
This will be updated weekly with new photos!
Nominate The Port – CrossFit Portsmouth for the Best Fitness Center on the Seacoast!
https://seacoastonline.gannettcontests.com/2021-Best-of-the-Seacoast/

Normal Schedule July 3rd – 5th. Happy 4th!
The Port – CrossFit
Warm-up
Warm-up (No Measure)
2:00 in Z1

+ Monster Band Glute Activation Drills and Squat Mobility
+ 2 Rounds w/ a BB or PVC:

10 BB Good Mornings

10 Back Squats

10 Thrusters
Strength
Back Squat (Re-Test! Find a new 1RM)
Burn Strength
A: Goblet Squat (4 X 10 @ 31X1 Tempo )
Goblet Squats to a Box today.
B: Banded leg curls (4 X 20)
Set up a band that allows for full range of motion, but still provides a challenge.
Workout
Metcon (2 Rounds for reps)
2 Rounds:

AMRAP 3:

Wall-Balls (20/14)(14/10)
Rest :30
AMRAP 2:

Russian KBS (70/53)(53/35)
Rest :30
AMRAP 1:

Box Jumps
Rest 2:00 Between Rounds.
Cool Down
Warm-up (No Measure)
3:00 Foam Roll Glutes, Hamstrings, Quads.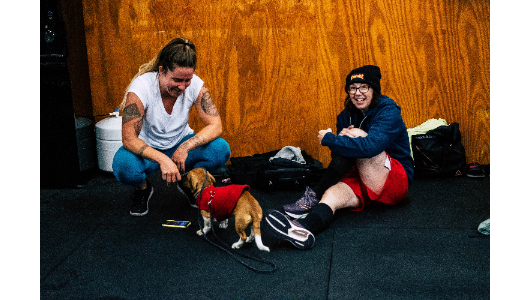 Rachael, Sandy, and the Bridge-factor