Announcements
VOTE for The Port Best Fitness Center on the Seacoast!
The Port
Warm-up
With a Partner, 4 X 100m Jog.
You go, I go, increase pace each round.
+ 3 Rounds:
5 Up Downs
6 DB or Barbell Push Press
7e Leg Swings – switch direction each round
+ Banded Shoulder and Tricep Stretches and HS Prep
Skill
HS Holds
8-10 Minutes to work on HS Holds and HS Walking.
Burn Strength
EMOM X 8:
Evens: :20 – :30 DB Overhead Hold
Odds: :30 alt. DB Bicep Curls
Workout
3 Sets:
15/12 Cal Bike
2 Rounds:
7 Push Jerks (155/105)(115/85)
7 HSPU
15/12 Cal Bike
Rest 1:30 Between Sets.
Burn Sub (DB or BB):
7 Push Press
7 Push Jerks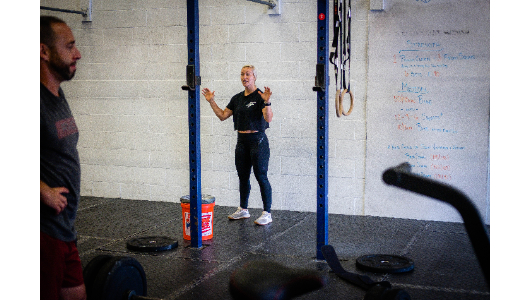 Coach Jamie